Sigmoid Colon GRS VAGINAL DILATOR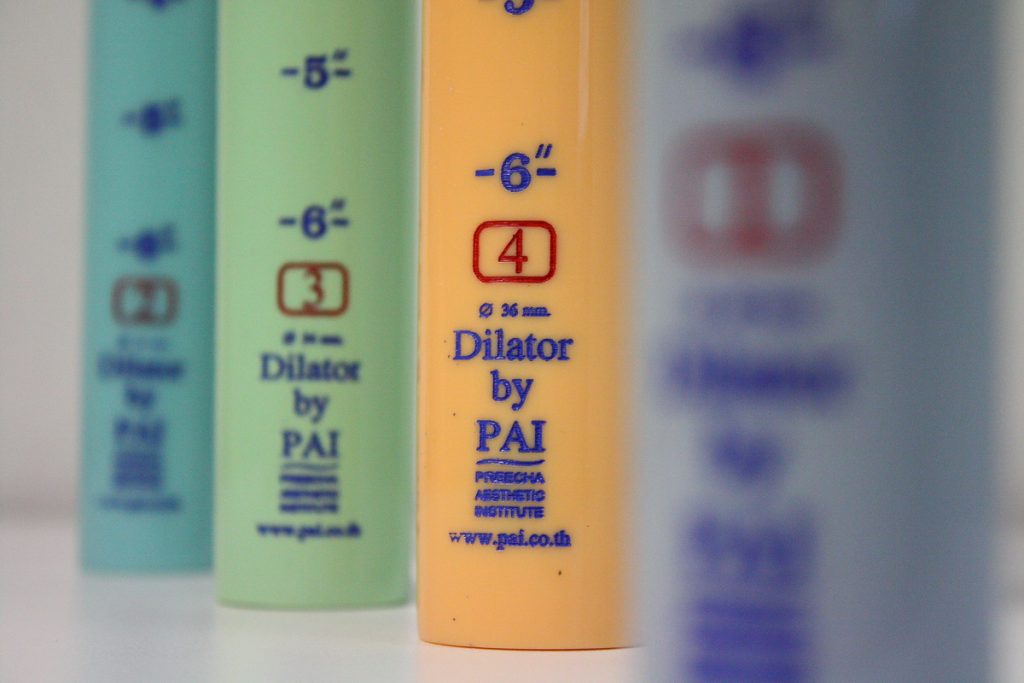 DESCRIPTION
GRS Dilator for Sigmoid Colon, these are designed for our Gender Affirmative Surgery after post-operative SRS Sigmoid Colon surgery. The end curve of dilator able to measurement helps determine to insert into neovagina from sigmoid colon technique. Sigmoid Colon dilators are also specializes in the product of progressive diameter stents (dilators) for Sigmoid Colon (SRS) postoperative care transgender (male to female) patients to fill the need for highest quality stents in effective healing processes. 
The design Sigmoid Colon dilator each side is provided the rigidity necessary to stretch contracting scar tissue and very good and gain additional depth. Our smooth finish dilator and proper nose curve can make insertion more comfortable over sensitive new tissue. The nose curve can help to increase vaginal depth by creating enough stress to encourage the formation of new tissue without causing outright tearing when gentle smooth fully inserted.
SPECIFICATIONS:
Color acrylic start from size 1, size 2, size 3 and size 4.
Quality finished stents end curve to required specifications.
Length 18 centimeters (7 inches and up by 0.5 inch increments).
Circumference 28, 31, 34 and 36 (mm).
Overall 9.5 inches in length.
THE SET OF DILATOR: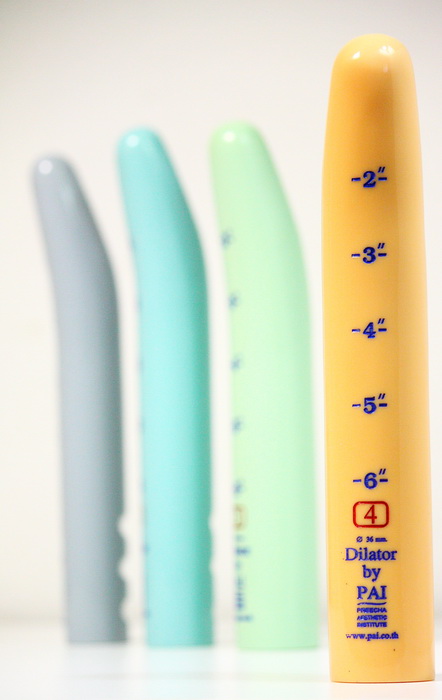 Sigmoid Colon dilator comes with four curve stents progressively increasing diameters of:
Size one. 28 mm
Size two.  31 mm
Size three. 34 mm
Size four.  36 mm
All dilators are 25 centimeters (9.5 inches) in length.
Personal cares DILATOR:
Apply lubricate water based to the dilator cover by condom as well as vagina opening area before inserting into the vagina as lubrication aids in comfortable insertion.
Clean your dilator after each use.  Wash with warm water and mild soap.  Allow the dilator to completely air dry after washing.
Do not clean your dilator in boiling water as the high temperature.
Consult with physician for proper insertion technique and dilation frequency.
CONTACT INFO
PAI (Preecha Aesthetic Institute) 898/1 Sukumvit 55 Wattana, Bangkok 10110 Thailand Tel: (662) 715-0111-2 FAX: (662)715-0113
Email: consult@pai.co.th