Thai surgeons will perform the world's first live sex change operation on Friday in an attempt to boost the country's booming cosmetic surgery industry.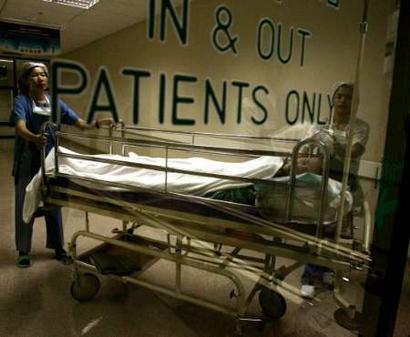 Nattarin Sukprasert, a 27-year-old male patient, is wheeled by nurses into a surgical room before going through a 'sex reassignment' operation in Bangkok December 10, 2004. [Reuters]
Doctors from the Preecha Aesthetic Institute and BNH Hospital in Bangkok are due to perform the operation on a man with 35 of the world's leading "sex reassignment" surgeons looking on.
"We want to show the world that our standards of treatment are comparable to the international level. That is why we have invited world renowned surgeons from Europe," said Dr. Preecha Tiewtranon, who is heading the surgical team.
The doctors are expected to demonstrate pioneering techniques in sex reassignment surgery during the three-hour operation with the foreign doctors watching on video montiors.
Sex change surgery is already a multi-million dollar industry in Thailand, which is competing hard against hospitals in places such as Singapore for foreign patients who flock to modern posh establishments in their thousands.
Preecha, considered the godfather of Thailand's cosmetic surgery business, said he performs sex change operations on between three and five patients a week.
After more than 25 years in the industry, he says demand for his services is increasing.
"Thailand is the most popular destination for cosmetic surgery because, one, it's cheap and two, our hospitals are better than most hospitals overseas," he said.
Preecha said he pursued the field of sex change surgery in the mid-1970s after witnessing the gruesome outcomes of botched operations.
The craft has been tuned so finely in Thailand that the majority of Dr. Preecha's patients are from the United States, where sky-rocketing insurance and the threat of lawsuits have contributed to spiralling medical costs.
Sherri-Ann Higgins, a married 56-year-old grandfather from Pittsburgh, is one of Dr. Preecha's latest success stories after undergoing a $7,500 sex change operation last week.
It restored her sanity after a lifetime of depression, she said.
"I wanted my body to match my brain. I've known I was a woman since I was four years old, but I always tried to hide it. I became too depressed in later life but this process has helped me to be quite happy now," Higgins told Reuters.
Thais to perform first live sex change operation (chinadaily.com.cn)